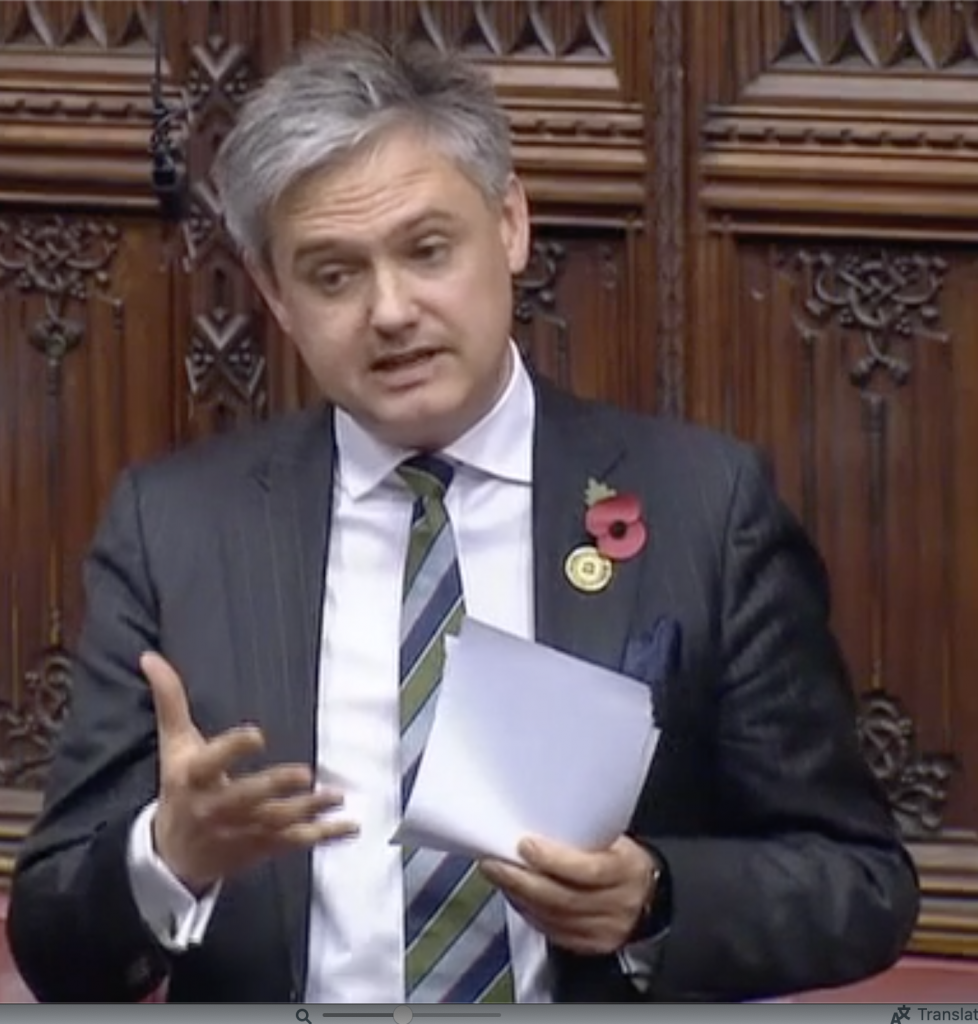 My Lords, it is an incredible honour to address your Lordships' House for the first time. I have been touched by the kindness and support of the many dedicated staff in this place: Black Rod, the amazing doorkeepers and Garter, not least for his agreement to my title. I am deeply indebted to my two supporters, the noble Lords, ​Lord Robertson of Port Ellen and Lord Hennessy of Nympsfield, one a former NATO Secretary-General and esteemed former Labour Defence Secretary in the other place, the other the fabled analyst and chronicler of the inner workings of the British state. They were always so generous with their wisdom on the UK's nuclear deterrent when I was the MP for Barrow-in-Furness. Today, I am honoured and still a little starstruck to count them as my friends.
I also want to mention two friends from opposite sides of the House with overlapping territorial designations to mine. The noble Lord, Lord Hutton of Furness, was my predecessor as MP for Barrow and my former boss in Whitehall. The noble Lord, Lord Cavendish of Furness, has shown me such kindness since I became a Member of Parliament. They are both beacons to me and many others in different ways. The noble Lord, Lord Cavendish, will be greatly missed by this House as he announces his retirement.
To my neighbours on Walney Island, which I am proud to take as my territorial designation, I just say this: you kindly took in this off-comer; you elected me three times, and now I will give you a lifetime of service, raising the particular concerns of the island and the wider area. I will remain a firm advocate of the submarines constructed with your expertise, and I hope to make a contribution in due course on the issue of coastal erosion, which could literally split our wonderful island in two in future decades if left unchecked. That would be unconscionable to the near-11,000 residents of the island and would decimate its unique, cherished natural resources.
I have been determined to use my maiden speech to highlight the need for the UK to do more in defending the rules-based order that underpins the freedoms and values embodied in this Chamber and the other place. Much has already been said on that subject this week, but the threat is far deeper than a particular part of a particular Bill. Our international adversaries are intent, with a whole spectrum of means, on unravelling the system of international order that protects our liberty and our interests abroad. As we remember today the struggle and sacrifice of previous generations so that we can live free, let us recognise that this battle will be our generation's struggle.
I therefore wondered whether it was right to make my maiden speech in this debate on a Bill whose purposes, as we have heard, are to sanction certain individuals to commit what would otherwise be criminal acts. However, the fact that this process of scrutiny is happening at all, and that a legal framework is being constructed, should be seen as demonstrating the strength of Britain's commitment to the rule of law as a means of upholding our security.
I was pleased to be asked by the Prime Minister, on standing down from the House of Commons, to advise the Government on aspects of counterterrorism. I listened carefully today to the excellent maiden speech by the Minister, whom I congratulate, and to many others. I have seen the strong backing that this Bill has received from the security services and from the Intelligence and Security Minister. I am happy, therefore, to vote to support it tonight in the knowledge that the many pressing issues that have been raised will see further scrutiny in Committee.​
I end by briefly addressing the political journey that has brought me to this place, in this House on these non-affiliated Benches. I am proud of the small contribution that I made to stopping what would otherwise have been inflicted on the British people had the general election last year gone the other way. That has strained some lifelong friendships; indeed, it has led to one or two frosty encounters in the corridors of this place. I am happy now, however, to be given the opportunity to put party politics behind me and start a new chapter. Much of the past few years has been difficult, but it has underlined a central tenet of my faith: no one party and no one group within a party holds a monopoly of wisdom. We are all flawed human beings mostly trying to do our best in a complex and conflicted world. I will always endeavour to do my best in this place and it is deeply humbling to be given that chance.
Source: House of Lords Hansard, 11 November 2020, cols. 1073-1-74
Watch this speech on John's homepage.